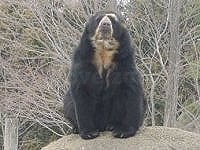 Spectacled Bear
Philadelphia Zoo
I have always loved zoos. In fact, I am pretty sure my first word was "zoo". And I have no doubt that everything I needed to know to do well in school I learned at a zoo. Click here for more on that topic.

My father loved zoos as much as I do, so we visited zoos often. Of course, some people may consider that visiting a zoo once a year is often.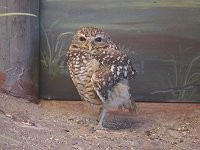 Burrowing Owl
Elmwood Park Zoo

But, to my father and to me, visiting a zoo once a week was not often enough. Only three things prevented him from taking me to a zoo every day: full time jobs, illness, or days on which zoos were closed.

My father is no longer visiting zoos here on earth, but I know he is strolling around the zoos in Heaven regularly. And I am enthusiastically continuing the tradition he started.

Throughout my childhood, my parenthood, and now, my second childhood, there has never been a place I would rather be, or a place I would rather take my children for fun, for education, and for exercise, than a zoo. Visiting zoos as often as once a week has never been expensive because we purchase family memberships every year and therefore we can visit the zoo as many times as we want without paying any extra. Even the parking is free with a family membership.

At some time in the future, I would like to spend all my time encouraging everyone, young and old, to visit zoos as often as I do. I have already begun working toward my goal by posting several websites designed to attract visitors to the zoos I visit regularly.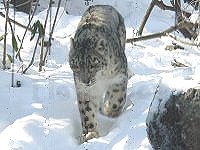 Snow Leopard
Bronx Zoo
My websites show photos of inhabitants of the zoos, and include sections which feature the birds and animals that, for one reason or another, I think are noteworthy. Click here for links to my other websites.

If you have any doubt that zoos are wonderful places, please visit this site and my other sites often so I can change your mind.

Note: If you are a parent of an infant, toddler, or preschooler, please read my tips on what to say to your infant, toddler, or preschool child while visiting the zoo to make zoo visits educational, and please also check my when your child is ready section regularly for new little lesson plans based on zoo visits. Also, please look at my books for children page.

If you are an adult with no children to accompany you, click here to see why you should visit zoos often.

If you are the head of a zoo's education department, or other person in charge of creating and designing zoo classes, please see my class outlines for my proposals for classes for parents of infants, toddlers, and preschoolers.

If you love visiting zoos, please see my YouTube channels devoted to zoos I visit regularly: My Philadelphia Zoo Videos and More of My Zoo Videos
And please see my Facebook "I love zoos!" personal page, too! My "I love zoos!" Facebook page

Finally, if you (whoever you are) have any comments or questions, please contact me!


Text, images, and source code © 2003 Merry L. Morris